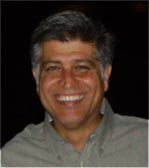 Dr Bavarian received his Ph.D., and Master of Science degrees in Electrical and Computer Engineering from the Ohio State University, Columbus, Ohio, and attended the Graduate School at Brown University, Providence, Rhode Island.
Dr. Bavarian is a pioneer and industry leading authority in the field of Fingerprint Biometric Identification with over 26 years of research and development experience in academics and industry business management. He joined Motorola through the acquisition of Printrak International by Motorola in November of 2000.
Dr. Bavarian is currently an executive member of the management for the Motorola Biometrics Business Unit. In the last 12 years, Dr. Bavarian led the development of two product generations of fingerprint identification systems, each setting the bar on the new technology standards in the industry for others to follow. He initially joined Printrak in 1992, as the technical lead for Printrak's sixth generation Biometric Identification product line. Sales jumped more than four times in five years, leading to a successful company public offering. Dr. Bavarian was featured in the Forbes Magazine April, 1997 issue as the lead technologist for the turn around of the Printrak International Automated Fingerprint Identification System Products.

In 2000, Dr. Bavarian was the member of the senior management in charge of the acquisition and successful integration of Printrak by Motorola. Upon the completion of this transaction, he initiated the development of the next generation Multimode (fingerprint, Face and Iris) biometric identification product called Omnitrak. The product has introduced state of the art web-based and multi-tier internet model service oriented architecture (SOA) and for the first time open and scalable technology for combining multiple modes of biometrics such as face, finger and iris to Biometric Identification market and received the 2004 Frost & Sullivan Award for Competitive Strategy Leadership.

Prior to Printrak, Dr. Bavarian was a professor in the Department of Electrical and Computer Engineering at University of California, Irvine for eight years, where he conducted original research and taught advance curriculum in Intelligent Systems, Artificial Neural Networks, Computer Vision and System Theory. During his tenure, Dr. Bavarian published over 80 technical papers and book chapters and received several awards for outstanding research and teaching.

A few of the successful career milestones achievements:
• Development of High Speed Fingerprint Matching system for FBI. The fastest and most accurate search and match engine in industry in 1994.
• Development of the fastest fingerprint image processing for real time identification using the Texas Instrument Multi-Media DSP chip in 1995.
• Development and installation of the first large-scale Civil Biometric Identification system for fraud detection and prevention for Los Angeles Welfare program, later expanded to the California Statewide system.
• Invention of the ExpertMatching technology. The first Knowledge-based (not Minutiae-based) fingerprint matching technology.
• Development of Omnitrak product, the first Multi-Biometric Identification, Multi-tier, J2EE compliant Scalable and Service Oriented Architecture product in the industry.
• Inducted to the Motorola Science Advisory Board for outstanding contribution to the state-of-the-art in biometrics and fingerprint technology, 2002.
• UCI, Distinguished Research Award 1989; and UCI, Engineering Professor of the year 1988